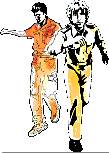 Back to News

December 31, 1998: I must say on a sad note, my grandmother, Jean Kemper, died a few days ago, at the age of 77. I will be gone to Indiana (her home state) for her funeral...very sad. I won't be able to update for a few days, so bear with that.

Sean: Um, he is to be interviewed in Guitar Magazine in their February 1999 issue (betcha all knew that)...an avid fan of Guitar Magazine (and guitars of course), I'll be sure to get it! Also, to the left is a little AIR picture I messed around with...I like it a lot!

Site: Nothing new with the site...but I am in need of help with the yet-to-be-up FAQ page, please email me with some question help at super911@hotmail.com.


---


December 29, 1998: Man, haven't updated in sooo long, very sorry for that. Well hope you are having happy days this December (and a happy new year! Party like it's 1999!). Been busy lately, recording with my band (Some original written tunes, some Beatles tunes, etc). Well, once again, happy new year!

Sean: Go here to see The amazing french duo AIR's favorite albums of 1998 (Sean's album is in it!). Other than that, nothing lately that's new...but I must say, I had said last time I updated I had found an article about rock star kids...well, I lost it in the trash...now isn't that a pity? It was a great story too (with a picture of Sean from the Letterman appearence - not on the net! ARGH!). Sorry.

Site: I am asking for help in The FAQ page I'm making. If you have any question ideas about Sean that I can answer in the FAQ, email it to me, Jamin Dean (BTW the FAQ isn't up yet). Also, any other suggestions are accepted gracefully *G*.


---


December 20, 1998: Didja miss me? In case ya didn't know, I was on vacation...very fun! Will update more about it later...now, where did I put my Beck CD?

Sean: Found an article in the Sun-Sentinal newpaper, for south florida (or something like that) about children of rock stars (ie. Sean and Julian, etc.) I will be writing it up soon.

Site: Nothing new today, but I am making the FAQ page now :)


---


December 11, 1998: Well today is my birthday (the same day John Lennon (father of Sean *duh*)'s debut solo album Plastic Ono Band was released in 1970...weird) and my present is a week's vacation! I won't be able to update for a week, so I hope ya miss me! Might also say, join The Ultimate Sean Lennon Web Ring now!

Sean: Well, earlier today was the broadcast of the Tibetan Freedom Concert Day 2 (which featured Sean, etc.)...I missed it though (too bad). If I can archive this, it will be done as soon as I get back.

Site: Hmm, nothing new with the site..just the news update.


---


December 10, 1998: Well, I must say, I won't be here for about a week (vacation)...sorry! Oh wait, I must say, buy Beck - Mutations right now! It has some very flavorful tracks (My favorite: Tropicalia). Sean seems to have some influence from Beck (as well as many other artists) so it seemed right to post that...great album!

Sean: Well it'll be tomorrow when they broadcast Day 2 of TheTibetan Freedom Concert Day 2 featuring Sean (on my birthday!!!!! YAY!) But then, I won't be here, so I won't be able to see it *grr*. Oh well.

Site: Well I added some new pictures about 2 days ago, so I forgot to post about that (oops), and I updated the quizlet that pops up when you open the main page...its about the John Lennon Anthology. If you have any Quizlet ideas for a quiz type thing, or any other suggestions, I would try to use them.


---


December 07, 1998: Hmm, well, celebrated my sister's birthday yesterday...18 already? Now she can be shipped to a great land: college! No, just kidding!

Sean: Go here to find The Tibetan Freedom Concert Day 2 featuring Sean...it will be broadcast on my birthday (December 11th). Also, Sean's Late Show performance will (maybe) be broadcast, but who knows? I'll keep you updated.

Site: Updated the pictures section, with some things I've scanned, like the back side of Into The Sun album (bet nobody has this one!), etc. Also updated the Half Horse / Half Musician section a little. Seems that a lot of people have posted the lyrics (I'll be adding lyrics soon), but it seems that if you need clips, you'll find them here :) I might try MP3 clips, but that's to be decided. But I gotta give thanks to Kitty Mak of Shadow On The Wall for scanning the HHHM cover, even though I didn't ask permission to use it! Whoops, but this is to credit for her. I also tweaked some things (survey, etc.).


---


December 06, 1998: Well, the news page is up! Pretty neat...knowing some people have been complaining about that side column (I'm keeping it for other things though), so I made this news page. Hope you like it!

Sean: Nothing new now, except that Sean will be featured in Jump Magazine.

Site: Going to be putting some more pictures up and some more info on the EP Half Horse Half Musician, but other than that, just putting the news page up! Oh yes, it's my sister's birthday...well, gotta say HAPPY BIRTHDAY to her (Although mine's coming in less than a week anyways :)